Mentoring Program
EXPAND YOUR ARTISTIC VISION
Explore What You Want to Paint and Create Your Own Original Series of Work.


To have creative breakthroughs, you need to push beyond your comfort zone. Finding your own voice can be a matter of discovering your gifts, simplifying your message to make it more powerful, and seeing life from a different point of view.
If you're open to what truly inspires you, you'll find you'll continue to grow as an artist and develop your unique artistic style.
Do you want to advance your design skills, develop your sense of color harmony, & finesse your work to make it even better?
If yes, this is a program for you.
Follow your heart as we seek ways to build your own series of colorful paintings
Discover what is meaningful to you as we explore the importance of relationships in color, shapes and light.
Limited to 24 artists. You can sign up for the waiting list if the group is full.
All sessions will be recorded and available online so you can go at your own pace.
Classes will usually be held two Wednesdays per month at 10am Pacific Time. The first session is for painting and exploring concepts plus giving you an assignment for the month. The second mentoring session is to give you personalized feedback on your own projects to help you with your creative aspirations.
Receive insightful creative prompts that you can experiment with as you interact with a vibrant community of focused painters.
Are you already in one of my programs? This is a great add on to any of my programs.
This program goes beyond teaching you how to paint what I paint, this program is to help you explore what you want to paint and create your own inspiring original series of work.
Explore the process of conceptualization and refine your vision through the development of a series of your own work.
You'll discover how to see like an artist, distill your designs, harmonize colors, and capture the nature of light.
A SENSE OF COMMUNITY
Enjoy the camaraderie of the artist friends in the group and find inspiration in the unique style of each artist
Kathryn M.
The online Facebook closed group of others in the class really is motivating. There is a sense of community; it is fun to share and see how others approach a particular subject. I've really enjoyed this class!
Marie M.
I feel more free to be myself in this online class, where I don't have to look anyone in the eye (I am pathetically self-critical) …. And I learn so much from other classmates' comments and from others' work, because I am relaxed. The material is fun and Cindy is inspiring. I haven't painted this often, Ever!!
Kerrie K.
I really enjoy Cindy's teaching style. I have learned so much since taking her class. She is able to push you past your comfort zone, yet I still had fun. My painting has improved 10 fold since gaining knowledge, skill, and confidence. I even tried some plein air painting while on vacation. I was able to capture "the moment" and truly have a personal memento of my vacation. I highly recommend any of her classes.
Joni P.
I love painting with Cindy Briggs! I have been taking her classes for about 18 months and have found this to be my Zen space....painting with Cindy. She makes everyone feel comfortable regardless of their level of talent. The classes are always fun and full of positive energy with so much appreciation for art and beauty.
Why am I creating this Mentoring Program?
The Curriculum
We will cover many of the subjects shown below as we make progress together.
Intuitive Line & Captivating Color
Connect with your subject and capture your first impression

Draw with flowing lines and paint with flowing color

Loosen up and get into the subject
Compelling Relationships
Visualization, composition & design

Create harmony and balance in your paintings

Utilize light and shadow, organic and geometric shapes, color relationships, dominance, directional lines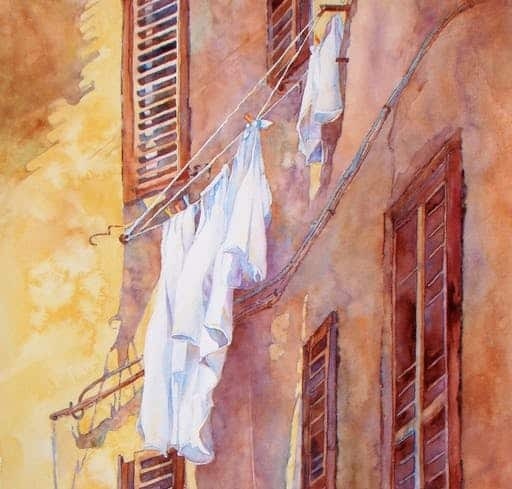 Dramatic Light & Shadows
Infuse luminescent light into your paintings

Create depth, strength, atmosphere, and excitement

Bring shadows to life with colorful, reflective light
Color Harmony
Explore color schemes: analogous, split complementary, and triads

Influence the mood of your paintings using temperature

Discover your own color style
Point-of-View
Explore a variety of different perspectives

Add pattern, texture, and rhythm

Simplify & combine shapes for a bold statement
Finesse
Assess your work to see what can make it even better

Minimize elements that needlessly draw attention

Fine-tune your edges, values, and colors
Why paint watercolors with Cindy?

"Who is Cindy Briggs and why would I want to learn watercolor painting from her?" That's probably the question you've got in mind at this point.

To answer that question,... Teaching watercolors for over 25 years, I truly enjoy working with and helping my students on their creative journey en plein air, in the studio and online.

I am:

✓ A master of translucent watercolors; I've gained recognition for my sun-drenched landscapes, luminous flowers, and striking portraits,

✓ A Signature Member of the National Watercolor Society (NWS) and Northwest Watercolor Society (NWWS), Cindy is an internationally recognized artist whose work is exhibited in juried and gallery shows.

✓ Featured in Publications including Plein Air Magazine, American Watercolor, Outdoor Watercolor and Watercolor Magazine.

✓ A featured workshop instructor for the Smithsonian Studio Arts Programs, University of Utah, GoTerracotta.org and French Escapade.

✓ An International Workshop Instructor for over 20 years. Scenic destinations from Spain, Italy, France, to Quebec and Greece are popular in Cindy's workshops with more starting in 2022.

✓ A featured instructor for Watercolor Societies, Special Events and Art Centers.

✓ A Daniel Smith showcased artist who has worked with Daniel Smith stores teaching workshops, conducting demonstrations, and creating videos,

✓ An award winning artist whose work has been juried into several National and International Exhibitions. I have also served as a juror for exhibitions, museum shows and art festivals.

✓ A graduate with a degree in Design with experience as an advertising art director for leading agencies in San Francisco, Seattle and Los Angeles. This gave me in-depth experience in lighting, design and conceptual thinking which influences my work and teaching approach.
This series of lessons is to inspire you to expand the way you create and see your subjects.
Paint what you want! For this first series I'll focus on Painting Europe with a step-by-step watercolor lessons the first Wednesday of each month. This gives me room to demonstrate a variety of scenes that all relate to each other.
During our first meeting you'll receive artistic prompts to expand your possibilities and understanding of the concepts taught each month.
My third Wednesday meeting will be to answer questions, give artistic feedback and do related mini-demonstrations as needed. Wednesday meeting dates to be announced.
What are the prerequisites?
Can I join the mentoring program if I am not in any of your other programs?
Is this program ideal for beginners?
Is this program ideal for more experienced artists?
What if I want to do my own thing?
Do I have to share on Facebook?
How long will the Mentoring Program be open for signups?
Will everything be recorded so I can watch it again?
When are the workshops and meetings?
Cindy Briggs' 2022 Mentoring Group Meeting Dates:
All meetings are at 10am Pacific Time. Meetings will be recorded and added to the platform so you can access anytime. I'm traveling in September to Colorado & Spain so the dates are shifted.
Painting & Concept Lessons are 3-4 hours. Mentoring Sessions & As Needed Demos are 1-3 hours as needed.
September 8 Intro Meeting, Painting & Concept Lesson
September 28 Mentoring Session & Demos
October 5 Painting & Concept Lesson
October 19 Mentoring Session & Demos
November 2 Painting & Concept Lesson
November 16 Mentoring Session & Demos
November 30 Painting & Concept Lesson
December 14 Mentoring Session & Demos
2023 Dates to be announced.
In October or November we will schedule a private Zoom session with each participant.
If you feel you need more encouragement, more design insights, more direction, more color theory, more of your own original work, then this is for you.
When you sign up you'll receive a confirmation and a questionnaire that will help us get started.
This Special Mentoring Group is Limited to a maximum of 24 artists.